Easy Mini Winter Scene in a Cloche
I think I have an obsession with all things mini and pretty things inside glass cloches. For example, I recently made these DIY Snow Globe Ornaments and these Mini Winter Forest in Vintage Tea Cups. I also made a few centerpieces like my Easy Gold, Black, and White Pumpkins DIY and for a bridal shower I made these Mad Hatter Tea Party Centerpieces & Ideas. Today for Craft Lightning, I wanted to share a simple fifteen minute Easy Mini Winter Scene in a Cloche for your Christmas decorations.
Here's what I used:
First I painted the little bench. I used what I had and painted it black. You can also stain it a darker wood tone as well (I had some stain but it dried out! Whoops!).
I found some scrapbook paper that I had that looked like newspaper. I cut out a small rectangle and then folded and rolled it to look like a mini newspaper to lay on top of the park bench.
Desn't it look cute? I thought it was a nice extra touch.
I put some fake snow on the base of my stand and made the little arrangements with three sparkling green mono trees I got last year to use for my winter forest display.
Here it is! Super easy and took minutes. I realized the clock isn't to the exact scale, but I thought it still looked cute. It was on sale anyway!
Be sure to visit the other blogs participating in Craft Lightening this week and head on over to our hosts, Country Chic Cottage and 30 Minute Crafts for more 15 minute Christmas ideas!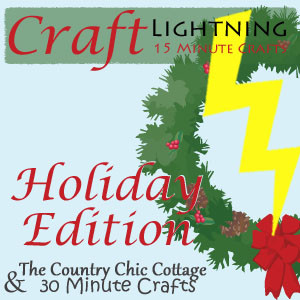 If you want to see some of my other 15 minute Craft Lightning crafts you might like:
Pin Me!