Plastic Easter Egg Chicks Craft for Kids
My daughter Mia and I are excited to share a 15 minute kids craft for Craft Lightning today! When I asked her what she would like to make out of a plastic Easter egg she said, "baby chicks!" So, we raided the craft room and came up with this plastic Easter egg chicks craft for kids.
Time: 5 Minutes or less
Materials: (Per One Baby Chick)
The first thing we did was gathered our materials. We searched for felt and paper scraps and color coordinated the baby chicks.
On the narrow side of the egg, we glued on some wiggly eyes.
Next, we cut a little beak out of orange scrap paper. We did this by cutting a triangle out of a small folded piece of paper.
We glued it onto the egg, underneath the eyes.
Next I took a piece of felt and cut a pair of wings free hand.
Mia glued them onto the egg.
For the feet, we cut a pipe cleaner in half. One side for each leg and foot. We bent one end of the pipe cleaner in folds to form little feet.
Open the egg and tape the top ends of the legs and secure it with a piece of tape on the inside of the egg. It took a little maneuvering, but we were able to close and pinch the legs and close the egg.
That's it! You can still open the egg and place candy inside.
Thank you the hosts of Craft Lightning Busy Activities, The Country Chic Cottage, 30 Minute Crafts, and Glued to My Crafts! Be sure to check out all the other busy activities for kids!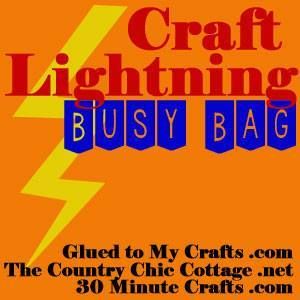 To enable screen reader support, press shortcut Ctrl+Alt+Z. To learn about keyboard shortcuts, press shortcut Ctrl+slash.