Easy Pumpkin Halloween Decoration
I am so thrilled to participate in yet another Craft Lightning hosted by Angie from Country Chic Cottage and Carolina from 30 Minute Crafts. This is my third one and I'm particularly excited because it's the Super Spooky Edition! The last two times I participated I made craft storage jars and a DIY rope vase.  This time, I am sharing a fun and easy 15 minute Pumpkin Halloween Decoration my daughter and I made.
Here is what you need:
I found these craft pumpkins for a steal at Goodwill for .99 each! Most craft pumpkins are around $5-$10 each. AND they already came in a funky green metallic color so we didn't have to paint them.
I also bought these pre-made letters from Hobby Lobby for .99 each.
My daughter and I painted them black.  I love that she's old enough now to do things like this with me.  Although she's only three, I love sharing in the creativity. It's a great age!
Once they were dry, I hot glued them onto the pumpkins.
Finally I added rhinestones to give it a little Halloween sparkle.
Here they are posing on the spider doilies I made! I think I might display them at my front door.
A big THANK YOU to Angie and Carolina for allowing me to participate in the Halloween edition of 15 minute craft lightning. It was a blast as always!  Make sure you visit their blogs to see what the other participants have in store.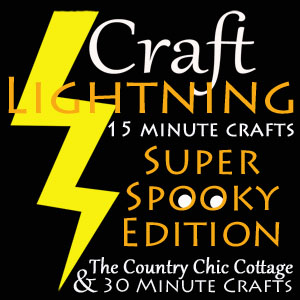 More DIY Pumpkin Projects: